Ashmole 782, also known as the Book of Life, is the enchanted manuscript that Diana Bishop acquires while doing research in the Bodleian Library at Oxford University. It is said to be a book of origins of the supernatural creatures of the world. It is coveted by witches, vampires, and daemons alike.
Ashmole 782 was collected by Elias Ashmole, a bibliophile and collector. Ashmole was also a student of alchemy. The author is unknown.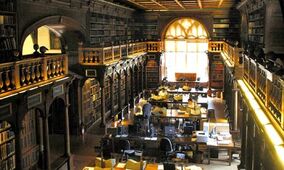 Diana Bishop's upon receiving the old manuscript from the stacks of the Bodleian Library of Oxford University sees that Ashmole 782 is a palimpsest, a manuscript within a manuscript, and not only that, but the writing underneath has been hidden with a spell. After making some notes on the text, Diana decides to send the enchanted document back into the stacks of the library. Soon the discovery of Ashmole 782 draws the attentions of witches, vampires, and daemons. Each species believes that the enchanted manuscript contains significant clues about the past, as well as the future. Not only does each creature after the document's secrets want Ashmole 782 itself but to know how Diana Bishop is able to retrieve the evasive volume.
On March 5, 2020, the series official twitter account provided a behind the scenes look at Ashmole 782.[1]
Community content is available under
CC-BY-SA
unless otherwise noted.