Christopher "Kit" Marlowe was an English poet and dramatist during the Elizabethan era, as well as a spy. In the world of the All Souls Trilogy, he is Matthew Clairmont's best friend and a daemon. 
Background
[
]
Kit is a character recognized by historians as having been a real person.  He was one of Shakespeare's influences and was especially known for his famous work "Doctor Faustus."
History
[
]
Shadow of Night
[
]
Christopher ("Kit") Marlowe is the first person Matthew Clairmont and Diana Bishop meet when they timewalk from their present day to Elizabethan London. He is ecstatic to see his dear friend and the man he loves, Matthew, but when Matthew introduces Diana as his wife, Kit is furious and confused. Throughout their time in the 1590s, Kit is mean and denigrating to Diana. When he learns that she is a witch, as well as an untrained one, he is horrified. He is even more filled with fear when he thinks that she must know his death and will cause the destruction of the School of Night's way of life. Marlowe begins to spread rumors about Diana in London, causing fear and panic about her sudden appearance and her magic. Matthew is furious with Kit's treatment of Diana, but does not want to harm his closest friend. Kit is often drunk and/or high. One night, Kit delivers Diana to Louisa, Matthew's sister. She has the blood rage, like Matthew, and is high from drinking Kit's blood. Marlowe has convinced Louisa that Diana has put a spell on her brother and the two argue over who and how they will kill her.
Appearances
[
]
External Links
[
]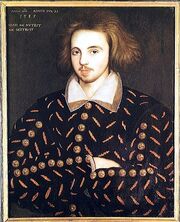 Christopher Marlowe on Wikipedia