Sophie Norman is a daemon in the world of the All Souls Trilogy. She is married to Nathaniel Wilson. She is described as having a round, sweet face with brown eyes and long brown hair.
Background
[
]
Sophie was born to two witches but was born a daemon. Her mother is a timewalker. She grew up in Seven Devils, North Carolina. When she met Nathaniel, she didn't tell him that her family was made up of witches until she took him home to meet her father. Neither of them told Agatha Wilson, Nathaniel's mother, because she was a member of the Congregation and knew the rules would never allow them to marry. Sophie is an artist and a potter.
History
[
]
A Discovery of Witches
[
]
Sophie Norman and her husband, Nathaniel Wilson, arrive at the Bishop house unexpectedly one day. They are looking for Diana. Sophie immediately recognizes her from dreams that she has been having. Diana recognizes both of them as daemons but when she feels the tingle that she senses when other witches are near, she realizes that Sophie is pregnant with a witch. Later, Matthew says that he has never heard of a witch giving birth to a daemon or vice versa. Nathaniel is anxious around all of the vampires and wants to leave the Bishop house as soon as possible. Agatha Wilson, Nathaniel's mother and a member of the Congregation, told them where to find Diana.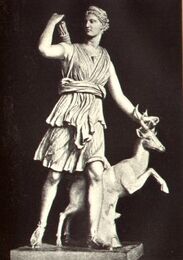 They traveled to the Bishop house very indirectly as someone had been following them. When Sophie had the premonitions about Diana, she made a jug with Diana's face on it. Sophie gives an object wrapped in a cloth to Diana, explaining that when her pregnancy was further along, she knew it belonged to her. It is a figurine of the goddess Diana. Matthew becomes uneasy when he sees the figure, explaining that it's a chess piece that his father gave to him. Matthew had lost it in a wager to someone named Kit. Sophie decides Diana will be her baby's godmother. She then points out that if they had another daemon in the room they would make up a conventicle, a gathering of at least three of each supernatural species. When Hamish arrives at the house, Sophie says that his face is on one of her pots as well and with his arrival, they make up a proper conventicle. Matthew wants to take a sample of Sophie's blood to test and Nathaniel is strongly against it until Sophie tells him that the Congregation will come after them too. Sophie and Nathaniel are the first to leave for Sept-Tours before Diana and Matthew timewalk to find Ashmole 782 and a witch to tutor her. 
Shadow of Night
[
]
Sophie and Nathaniel began staying at Sept-Tours when Diana and Matthew timewalked to 1590. While there, Sophie gave birth to their daughter Margaret. Sarah was in Diana's place as godmother during the ceremony.
The Book of Life
[
]
TV Series
[
]
Sophie is a daemon - unexpectedly so, since her parents and most of her ancestors were witches. She carefully guards that information about her ancestry, believing that she somehow came out "wrong" and will therefore be shunned. Like many daemons, Sophie has an artistic sensibility and has many visions. She and Nathaniel are thrilled by the prospect of being parents, but are worried about what their child might be: human, daemon or witch?[1]
Appearances
[
]
References
[
]